​GSE

ONLINE
​SDN BHD ( 1116968-P )​
​Terms & Conditions :
1) ​Cash & Carry
2) Transport charges not included​
3) Price revise without prior ​notification​
Copyright © GSE ONLINE SDN BHD ( 1116968-P ) ALL RIGHTS RESERVED
www.esdonlinemarketing.com www.esdMalaysia.com
DISINFECTANT Boot Dip Rubber Mat -
​
​
The sole of a shoe is the main breeding ground for bacteria, fungi and viruses.






​​

​​
​
​
​​
​​


​

Sanitation Practices Standard Operating Procedures ( SOP ) to Minimize Spread Of Infectious Disease through soles of shoes



​

​Infectious disease specialists have warned that viruses can live on the soles of shoes for

up to few days

, with footwear more likely to carry virus if it has been worn in busy areas like supermarkets, airports or on public transport etc.


All workers on the front lines should be sure to clean their shoes.
​

2) Purpose :-


To disinfect the soles of shoes as "carriers" and prevent spread of contagion disease from one place to another place .

​
​
Most shoes have a non-porous rubbery sole – a surface on which the infectious disease can last as long as few days . The sole of the shoe was the "breeding ground of more bacteria and fungi and viruses than the upper part of the shoe".

The mat prevents transporting "disease" from "IMPORT" or "EXPORT" , acts as a filter.



3) Scope :-


workplaces / hospitals / clinics / pharmacies/ farms / restaurants / supermarkets / offices / premises etc .

Usage method / How to use our mats :-
Equipment Preparation:
1) Disinfectant Solution (ie , Recommended Clinical Approved Disinfectant Solution )
2) Empty container / Bottle , one each
3) Boot Dip Rubber Mat 2pcs
4) Door Mat / Entrance Mat with Rubber Backing 2pcs
5) PPE equipment like Face Mask / Shield / Hand Gloves or other coverall garments or equipment designed to protect the wearer's body .



Preparation for Operation :


1) Fill up empty container with water
2) Pour in Clinical Approved Disinfectant Solution at recommended ratio as per Instruction
3)

Entrance Area

or we named

"IMPORT" BLOCK

:

​
​
Place 1pc Boot Dip Mat and 1pc of Door Mat in front of Boot Dip Mat at designated area ( Entrance )
4)

Exit Area

or we named

"EXPORT" BLOCK

:

​Place another piece of Boot Dip and Door Mat at Exit Area.
5) Pour in the Mixture gradually onto the Boot Dip Mat and step in and test the mixture level , till cover soles' level and no spillage of mixture.



Start Of Operation :


1) Ready for use , Step in the boot dip mat and rub the soles of the shoes for

at least 10 ~ 20 seconds

before entering / exiting workplace , dry up mixture with ( Door Mat ) waterhog Entrance mat placed in front of the disinfectant dip boot mat for " trapping " water & "Drink up" water / solution to keep the floors clean and dry after disinfection.
2) Replenish the disinfectant solution

at least every 2 to 4 hours for high traffic OR at least once a day for low traffic.





End Of Operation :


1) Clean up the residual disinfectant solution of the Boot Dip Mats & Door Mats regularly with Hand Protected Gloves ( Recommended full Protection , ie Face Mask / Shield / Hand Gloves or other coverall garments designed to protect the wearer's body from infection ).


​DO NOT TOUCH the residual solution / mats WITH BARE HANDS.
​

Disinfectant Boot Dip rubber mat ( Foot Bath )
Raw Material :
Made of Natural Rubber that resists most chemicals.
​​​​​​​​​
Purpose :
Ideal

for use in critical hygiene environment

, designed for areas that required disinfecting before entering , cleaning dirt and grime from shoes and entrances where reducing the spread of bacteria / germs / virus is essential.
​


Scope :


Provides a light-duty disinfectant solution for any area, e.g.:

sterile environments, healthcare facilities,

food processing industries

like restaurants/eating establishments & other industries .

​
Boot Dip mats with Disinfectant Solution are also used in commercial farms ( agricultural ) and animal shelters

to remove the transfer of disease to and from animals or germ / bacteria / virus transfer from one place to another place

. ( To Prevent Spread )
​
Characteristics :-
1) Made of durable Natural Rubber.
2) Natural Rubber offers good resistance to both tear and abrasion damage.
3) Raised walls on the boot dip sanitizing mat hold 20 Litres of anti germicidal detergent or any liquid for hygienic cleaning.
4) Hundreds of

rubber bristles with height ~15mm

which encourage boot cleaning whilst trapping dirt and grit.
5) All Black or with yellow edges for high visibility & Cross grip rear design firmly holds the mat to the floor
6) Hundreds of rubber bristles encourage boot cleaning whilst trapping dirt.



Specification


1)

Model : BD47BLK980X810

for

All Black

&

​

Model : BD47YLW980X810

for
Black with Yellow
edges
2) Our boot dip mats feature a maximum height of ~47mm , Width 980mm & Length 810mm / pc
3) Weight: ~14 kgs / pc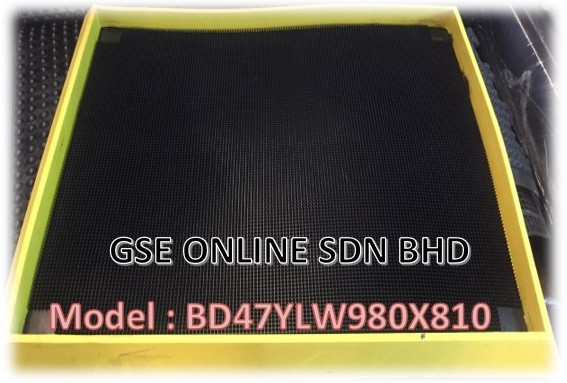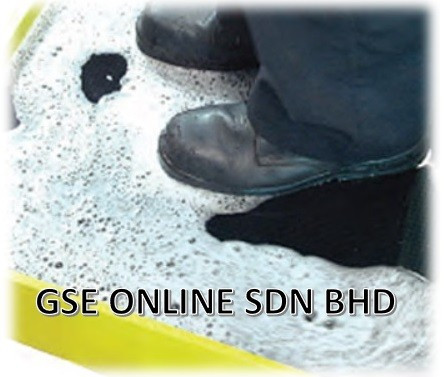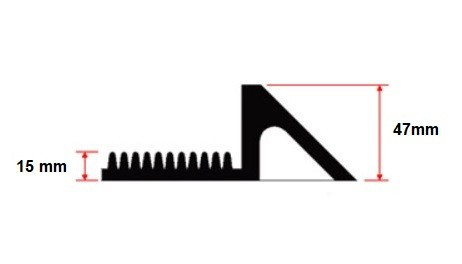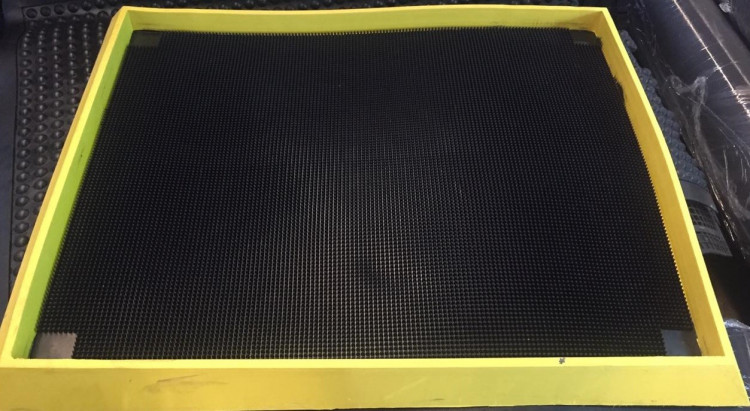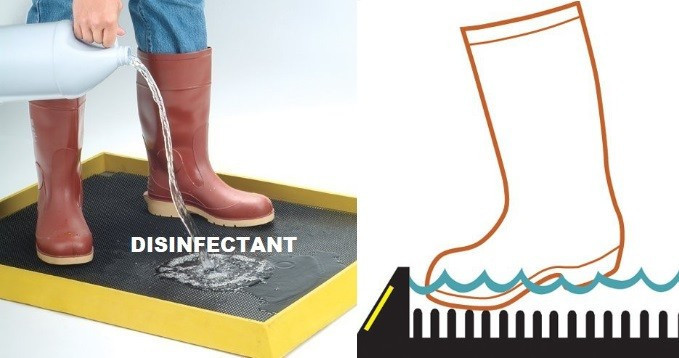 Entrance Mat ( Waterhog ) with Rubber Backing & "Water-Dam" Border


Purpose : ​Most popular entrance mats for " trapping " water & " Drink up " water and mud to keep the floors clean and dry to be placed after disinfection.

2 Sizes available : 2ft (0.60m) x 3ft (0.90m) & 3ft (0.90m) x 5ft (1.6m)
Disclaimer :

The information, figures, contained on this website - which acts as a guide only to customers . If necessary, please seek clinical professional advice before placing order from us.